I bought a block calendar of 'Gaspard and Lisa'.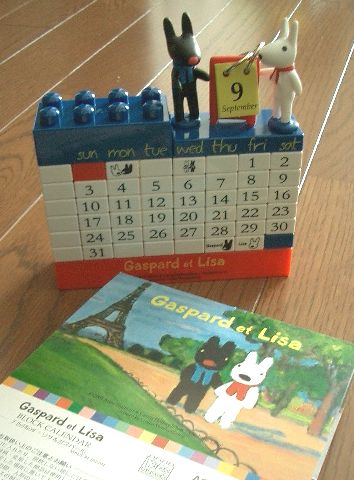 It was made in Japan.
This calendar is like LEGO.
2006-09-18: addition
The block calendar is sold by a company Asano-Seisakusho.
Gaspard et Lisa by Asano-Seisakusho
Asano-Seisakusho is in Saitama-ken, JAPAN.
The place is nearly this map.
Infomation of the Asano-Seisakusho:
address : 5-14-23, Higashiryoke, Kawaguchi-city, Saitama-ken, JAPAN
tel : 048-223-6323
web site : http://www.cablenet.ne.jp/~asa-ss/
mail address : asa-ss(atmark)cablenet.ne.jp
Send mail to Asano-Seisakusho for selling-through.
Comments
What a cute calendar ever!!!
I am totally falling in love with that cute
calendar at first sight!
It drives me crazy to search on the web site,
where I hopefully can order it from.
Would you let me know where I can order it?
I'm living in USA so need the seller to ship
it to USA. :) Thanks a lot.
Posted by Boogi : September 18, 2006 (Mon)
Hi, Boogi.
Asano-Seisakusho may do mail-order selling.
I wrote mail address and web site of Asano-Seisakusho.

Posted by NI-Lab. : September 18, 2006 (Mon)
Thanks a lot!!!
I really appreciate it. :)
I'm so much looking forward to a good news
from Aasano-Seisakusho about international
order. Anyway, thank you again and I'll visit
your site occasionally. Take care
Posted by Boogi : September 21, 2006 (Thu)
Oh, I feel good :-)
Aasano-Seisakusho takes good care of international customers.
Posted by NI-Lab. : September 22, 2006 (Fri)
Posted by NI-Lab. (@nilab)