I bought "Romancing SaGa Official Strategy Guide".
The book has colored 256 pages.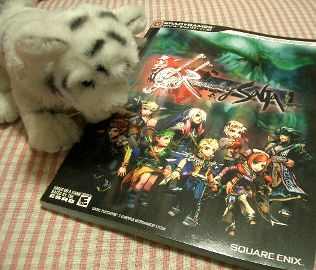 Recently, I often do this Japanese game on PlayStation2.
The book is written by English language.
Ref. Amazon.co.jp: Bradygames / Romancing Saga: Official Strategy Guide
Comments
Hi!
Thank you for visiting to my blog!
You are writing the diary in English,too.
I'm glad to meet your blog :-)
I'll visit here again!
Please let me participate "english2diary"
of your Ring.
Posted by takamin : December 7, 2005 (Wed)
Posted by NI-Lab. (@nilab)