I went a KARAOKE-BOX in today.
KARAOKE-BOX is a place for doing KARAOKE.
KARAOKE is a singing songs.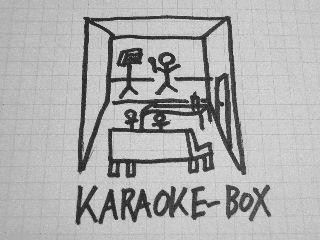 The songs I sang ...
English songs are :
ANGRA / Spread your fire
Caesars / Jerk It Out
HELLOWEEN / HELLOWEEN MEDLEY
HELLOWEEN / Power
RHAPSODY / Holy Thunderforce
RHAPSODY / Warrior of ice
SONATA ARCTICA / San Sebastian
SONATA ARCTICA / Weballergy
Japanese songs are :
Hirai Ken / Hitomi wo Tojite (means "Close my eyes")
Hirai Ken / signal
Hirai Ken / Omoi ga Kasanaru Sono Mae ni... (means "Before seeing eye to eye")
SEX MACHINEGUNS / HEAVY METAL THUNDER
Romanian song is :
O-ZONE / Dragostea din tei (means "Words of Love")
I like heavy metal songs!
Let's Heavy Metal Thunder!
Comments
I duetd "A Whole New World" at that time.
Posted by NI-Lab. : July 7, 2005 (Thu)
I think I might go to ken's karaoke tonight. I lived in tokyo so when i see karaoke in america it is usually a disappointment. After reading your blog entry I'm excited that they have Japanese songs =)
Posted by J.R. : July 27, 2005 (Wed)
Recently, Rap Music are popular in Japan. Heavy Metal Music or Hard Rock aren't popular. Zannen! (means "It's really too bad." in japanese)
Posted by NI-Lab. : July 29, 2005 (Fri)
Posted by NI-Lab. (@nilab)